It
was
time
for
an
upgrade.
So we took the oldest of snacks and gave it a delectable makeover. 
Over 6000 happy customers.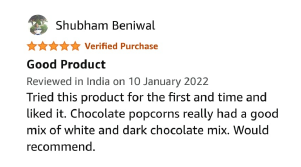 Fluff to Melt in Your Mouth.
Our Caramel Popcorn are enamelled in real caramel and displays the natural colour of the product! No artificial colours are added.
The Original Sweet & Salty.
Our opposites don't just attract, they make you fall in love!  Perfect balance of sweet and savoury. Need to say more? Grab your pack now to enjoy the tastiest and crunchiest of our lot. 
We picked up your favourite Caramel Popcorn and drizzled them with your next favourite thing, Chocolate! A lot of Chocolate, and it look as beautiful as it tastes!
Great along a borrowed Netflix account, these popcorn popped in the healthiest of oils give you that near loud crunch which will have your partner reaching into your pack…..so order two! Always order two! 
We saw you struggling to find that product that was equal parts affordable, equal parts healthy and more parts tasty; hence embarked the first Corn Trooper.
Stood next to a temporary arrangement holding 20 kgs of popcorn in bags, offering everyone and anyone nearby a taste of his little kitchen experiment.
There started Corn Troopers in half a year's time, offering the same delectable experience to a far reaching audience!